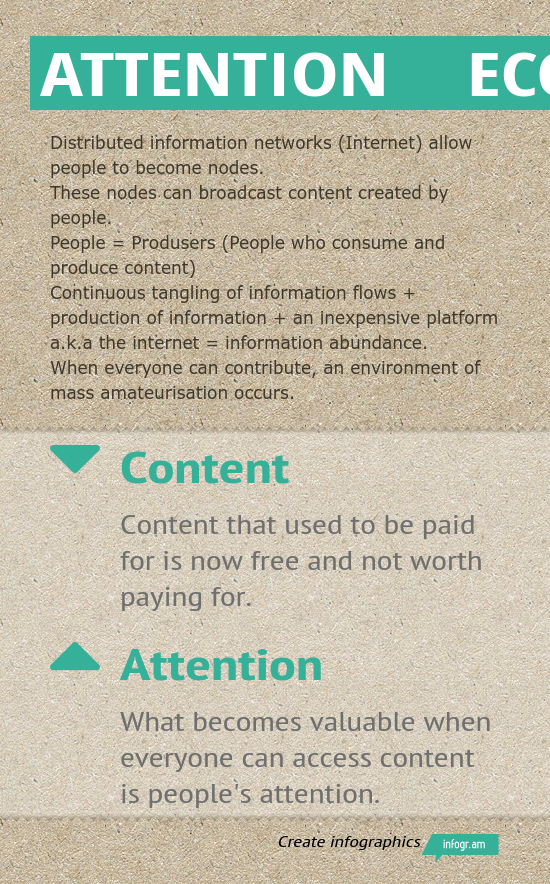 Aggregators operate in the distributed information network and cater not to the passive audiences of legacy distributers, but to the market of one, us. Aggregators can utilise information flows to eliminate the limits of space and scarcity, to find and share content that is considered niche.
Because aggregation eliminates the tyranny of space, online stores like Amazon are not confined to stocking only popular content favoured by most of the offline masses, their shelf space has no limits. Unlike distributors, aggregators can target the long tail, the 80% that make up the market of niches.
Now that content is widely available for free or virtually nothing, it has become worthless. What has gained value is people's attention. If value shifts from content to our attention, then things associated with our attention become valuable, and therefore, sellable.
References:
Mitew, T 2014, The Attention Economy and the Long Tail Effect [part 1], online video, Youtube, viewed 27 August 2015, https://www.youtube.com/watch?v=kCnVnLYPoi0&index=14&list=PLiPp71qLKusXOU1bKxHVappCbRNN3-J-j
Mitew, T 2014, The Attention Economy and the Long Tail Effect [part 2], online video, Youtube, viewed 27 August 2015, https://www.youtube.com/watch?v=i8fSbuWb80U&index=15&list=PLiPp71qLKusXOU1bKxHVappCbRNN3-J-j
Mitew, T 2014, The Attention Economy and the Long Tail Effect [part 3], online video, Youtube, viewed 27 August 2015, https://www.youtube.com/watch?v=mlI9wn8QsWQ&index=16&list=PLiPp71qLKusXOU1bKxHVappCbRNN3-J-j
Mitew, T 2014, The Attention Economy and the Long Tail Effect [part 4], online video, Youtube, viewed 27 August 2015, https://www.youtube.com/watch?v=7ptLSsZG8fk&list=PLiPp71qLKusXOU1bKxHVappCbRNN3-J-j&index=17
Mitew, T 2014, The Attention Economy and the Long Tail Effect [part 5], online video, Youtube, viewed 27 August 2015, https://www.youtube.com/watch?v=vWjXNpRZU6A&list=PLiPp71qLKusXOU1bKxHVappCbRNN3-J-j&index=18